Recipe: Banana Chai Muffins
Posted on September 05 2022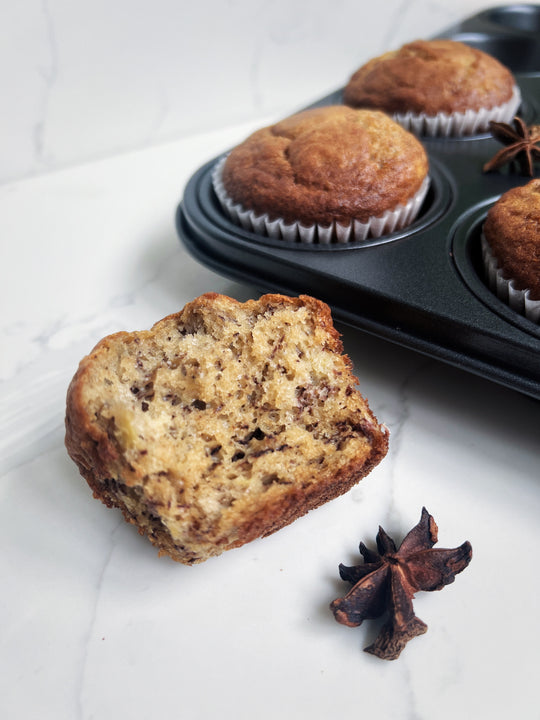 BANANA CHAI MUFFINS
Ingredients
- 70g All-Purpose Flour
- 40g Proteus Nutrition Masala Chai NO WHEY Protein Powder
- 25g Granulated Sugar
- 2/3 tsp Baking Soda
- 2/3 tsp Baking Powder
- 2 Medium Ripe Banana (mashed)
- 2 Eggs
- 80g Salted Butter (melted)
- 2/3 tsp Vanilla Extract
- 2 tbsp Yogurt
- Optional: Chopped Walnuts
Directions:
- Preheat the oven to 180°C. In an empty bowl, sift together flour, Proteus Nutrition Masala Chai NO WHEY Protein Powder, baking soda, and baking powder. Set dry ingredients aside.

- In a large mixing bowl, mash bananas and add in the eggs, melted butter, vanilla extract, yogurt and sugar. Whisk well to combine.

- Next, add half of the dry mixture into the wet mixture and fold gently until both mixtures are well incorporated. Repeat for the remaining dry mixture.

- Line a baking tray and scoop an even amount of batter into each muffin liner. For extra crunch, sprinkle some chopped walnuts over the top.

- Bake for 15-20 minutes. Et voilà! Your delicious protein muffins are ready to be eaten!